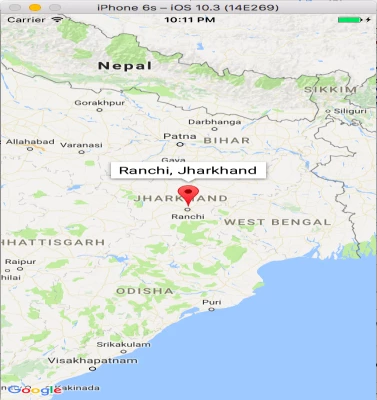 Google

Map

Android

Studio
If you want to use Google Maps in your app.
Create New Project and select google Google Maps Activity.
Run The Program.
If you run this program you will not have any output shown.
If we want to show the output, then we need to use Google API key.
Copy this Link from google_maps_api.XML Page and paste your browser.

https://console.developers.google.com/flows/enableapi?apiid=maps_android_backend&keyType=CLIENT_SIDE_ANDROID&r=AD:12:FF:A1:00:4E:E2:9A:17:6A:86:47:32:95:E0:03:7D:0B:C1:A7%3Bwaytofeed.wapptech.com.google_map_project
Select yes both Radio button.
Select Agree and Continue.
Create API Key.
Copy this API Key and paste the project google_maps_api.xml page.

<string name="google_maps_key" templateMergeStrategy="preserve" translatable="false">AIzaSyAPz2gDpX-YbKXe5RYzEH4f9DlvqDZyfe4</string>
Run the project.
But the default location set which is set here is from Sydney.
If we want to change his location.
Search in-browser latitude and longitude of any city.
Copy This latitude and longitude number and paste in onMapReady function.

// Add a marker in Sydney and move the camera
LatLng sydney = new LatLng(22.7196, 75.8577);
All Codes:)
google_maps_api:-

<resources>
    <!--
    TODO: Before you run your application, you need a Google Maps API key.

    To get one, follow this link, follow the directions and press "Create" at the end:

    https://console.developers.google.com/flows/enableapi?apiid=maps_android_backend&keyType=CLIENT_SIDE_ANDROID&r=AD:12:FF:A1:00:4E:E2:9A:17:6A:86:47:32:95:E0:03:7D:0B:C1:A7%3Bwaytofeed.wapptech.com.google_map_project

 
    -->
    <string name="google_maps_key" templateMergeStrategy="preserve" translatable="false">AIzaSyAPz2gDpX-YbKXe5RYzEH4f9DlvqDZyfe4</string>
</resources>
MainActivity.java:)

package waytofeed.wapptech.com.google_map_project;

import android.support.v4.app.FragmentActivity;
import android.os.Bundle;

import com.google.android.gms.maps.CameraUpdateFactory;
import com.google.android.gms.maps.GoogleMap;
import com.google.android.gms.maps.OnMapReadyCallback;
import com.google.android.gms.maps.SupportMapFragment;
import com.google.android.gms.maps.model.LatLng;
import com.google.android.gms.maps.model.MarkerOptions;

public class MapsActivity extends FragmentActivity implements OnMapReadyCallback {

    private GoogleMap mMap;

    @Override
    protected void onCreate(Bundle savedInstanceState) {
        super.onCreate(savedInstanceState);
        setContentView(R.layout.activity_maps);
        // Obtain the SupportMapFragment and get notified when the map is ready to be used.
        SupportMapFragment mapFragment = (SupportMapFragment) getSupportFragmentManager().findFragmentById(R.id.map);
        mapFragment.getMapAsync(this);

    }
    @Override
    public void onMapReady(GoogleMap googleMap) {
        mMap = googleMap;

        // Add a marker in Sydney and move the camera
        LatLng sydney = new LatLng(22.7196, 75.8577);
        mMap.addMarker(new MarkerOptions().position(sydney).title("Marker in Sydney"));
        mMap.moveCamera(CameraUpdateFactory.newLatLng(sydney));
    }
}